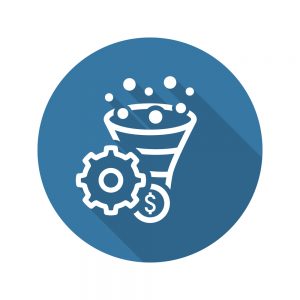 Last week, we laid out thought leadership basics in the pre-funnel, education phase of the buyer's journey. Your prospects' journey is about halfway done, and you've barely started talking with them!
As they enter your sales funnel, they've educated themselves on the type of solution they need. They're coming to you (and giving you their contact information) because they want to know what those solutions actually look like: They've entered their solution phase. Your job is to move them as quickly as possible to the vendor selection phase, with you as a top vendor choice.
Similarities and Differentiation Both Drive the Sales Funnel
People are much more likely to remember, respect, and respond to your message if your messaging is clear and consistent – with your pre-funnel messaging and with the market.
I'm not saying that you can't have an unusual message. Let me rephrase: You should have a differentiating message.
But prospective clients need to know how your solution fits in with the rest of the market. If you're not a first-in-category solution, your context should include the buzzwords and concepts used by other solutions in your category. Ideally, this will include thought leadership that will explain the market objectively, but with context that highlights the value of your particular solution.
Recently I was chatting with Les Yeamans, RTInsights' proprietor. We've known each other for many years, and he has a ton of earned wisdom in this area. I like his description of the problem: People have a lot of choice about traveling to Chicago – bus, train, plane, Uber, etc. – each with its own pros and cons. The first content priority for (say) bus companies is educating prospects about all the advantages of bus travel (e.g., no long waits, no TSA checks, first-class quality seats, sightseeing, less risk). Their second content priority is demonstrating the critical differentiators of their bus service relative to others.
First, be in the market. Then differentiate yourself. Cite independent research or use independent voices to show how you're similar to other solutions, even if only with respect to the problems you solve. And incorporate that objective content into customer case studies, white papers, video, and the like, to demonstrate how you're better than those solutions.
Your sales reps and account executives will thank you, because providing this context eliminates friction in the sales funnel. It sets up your prospects with questions he or she should be asking as they drive toward a solution.
First-in-Category is No Exception
Even if you have a first-in-category solution, think twice before positioning yourself that way.
Someone has almost certainly already tried to solve the same problems you have, but in more conventional ways – bus, train, plane, Uber, right? – and if nobody has, then your clients will wonder if it's really such a problem after all.
We saw this in the database industry, for instance, when vendors for multidimensional databases, noSQL databases, and Hadoop™ all showed how they solved some of the same problems as relational databases, but much better for their use cases. When you peel back the covers, the differences are stark – but, to gain acceptance, every class of vendor first had to show how they fit into the context of collecting, storing, and using data.
Enable your prospects to think of conventional products that solve similar problems, and then bring out how you solve them in a different, better way.
Now It's Your Turn
Objective, market-based thought leadership is essential early-to-mid funnel content in order to put yourself in a market while simultaneously differentiating yourself.
Aligning this thought leadership with sales support will ensure that you're maximizing the effect of your differentiators and making best use of your sales force's time.
Video, PDF, or interactive success stories – framed as case studies in objective thought leadership, ideally – are perfectly suited to maximize the throughput of your sales funnel.
We'll talk more about sales alignment and success stories in future posts.
Remember to fit all of this into your content strategy, by the way. And start driving those conversations forward.
---
Related: Thought Leadership That Maximizes Sales Funnel Throughput: Part I
RTInsights go-to-market services go way beyond white papers and thought leadership. Consider us your strategic sales and marketing partner.